Between now and the New Year I'm dedicating my Fridays to the cocktail hour. I'm going to explore appetizers, little plates, tapas, and all manner of late in the day snacks, nibbles, finger food, and the occasional libation to wash it all down with. I'm excited, this is my favorite way to eat, whether I'm throwing a holiday party or just hanging out with the nightly news.


Since I'm out of town and suffering from very spotty Internet access, I'm including some quick cocktail hour links inspired by our week in Madison Wisconsin...


Wisconsin Cheese Picks & Bites
are part of a marketing campaign by the Wisconsin Milk Board
.
Click on the link to see all the variations of these cocktail picks. They look like a kaleidoscope when they're arranged on a platter. I'm definitely going to make a bunch of
these for my next party.
Perique Tobacco Liqueur
The creativity of the Madison cocktail scene is pretty amazing. Many of the more exotic ingredients are created by the individual bars themselves. This week I tasted a drink made with a tobacco tincture. I have a weakness for woodsy, smokey scents, so I knew this would appeal to me. The bar made their own tincture, but this Perique tobacco liqueur would be similar, and it's nicotine free.
Beer and Cheese Dip
This one looks especially good.


Handmade cheese and bread boards
We had a cheese plate with every meal while we were in Madison. They were served on all manner of boards, plates and planks, the more rustic the better.
Gallery of Bitters
On our last night I had a cocktail made with cider, and rum, and cardamom and chili bitters. The drink had a hot, spicy kick to it, which was great since the temperature dropped 20 degrees in the space of an hour, the tornado sirens went off twice in that time, and the windows of
the tiny bar and restaurant
where we had dinner were completely fogged over. Once again, the bitters were made in house, but this site has a mind boggling array of options. I feel a DIY post coming on....
Mini Bratwurst Appetizers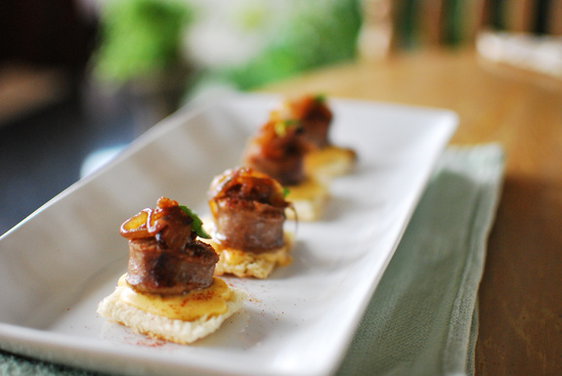 Homemade Soft Pretzels
They serve these with big smears of various mustards on the side. I'm making these the minute I get home...